Southern California Gas (So. Cal Gas), a Sempra Energy company, is the largest natural gas distribution utility in the United States, providing service to over 2.18 million consumers across 500 communities spanning 24,000 square miles in Central and Southern California.
To further their commitment to safety, So. Cal Gas entrusted their Field Technology division with the task of enhancing over 600 service vehicles with advanced, explosion-proof ventilation systems.
The primary objective was to substantially increase airflow for technicians operating in potentially hazardous and explosive environments, such as underground utility vaults. The introduction of an explosion-proof ventilation system was
crucial to ensuring safety, while also enhancing work efficiency.
Improper ventilation in confined spaces can expose workers to several potential risks. Firstly, insufficient airflow may result
in a buildup of flammable gases, which can lead to catastrophic explosions if ignited. Secondly, inadequate ventilation can cause an accumulation of harmful gases, potentially leading to asphyxiation.
Lastly, lack of proper ventilation can lead to poor visibility and increased temperatures, both of which can severely hamper the working conditions and productivity of the crew.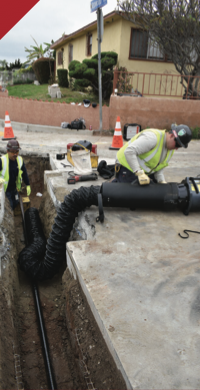 RAMFAN,with over five decades of leadership in Hazardous-Location ventilation, embarked on developing a robust solution for So. Cal Gas service crews.
The engineers opted for the EFi75XX 12″ ATEX certified haz-loc blower/exhauster. The EFi75XX, with a .75hp intrinsically-safe motor and patented impeller design,produces an impressive 2,500 CFM. Having ATEX and IECEx certifications for hazardous location use, the EFi75XX is apt for potentially explosive environments, 
To complement the fan, a detachable duct container storing 25′ of 8″ specialized conductive ducting was used. Both the duct canister and the ducting are made from custom conductive ABS material to diminish the possibility of explosive events. Custom, lockable vehicle mounts were fabricated for attaching the EFi75xx and duct canister to So. Cal's fleet vehicles. The fan and duct canister were also provided with custom ripstop nylon covers to protect them from harsh weather conditions and UV rays.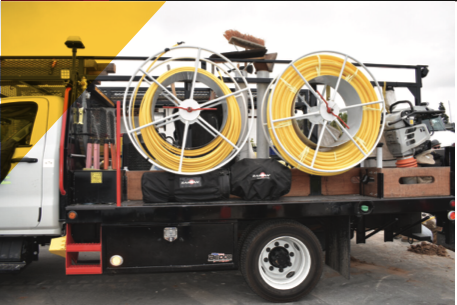 RAMFAN's collaboration and innovative approach have resulted in a safe and efficient ventilation solution for So. Cal Gas crews working in hazardous environments.
This case study serves as a testament to how engineering innovation and thoughtful design can significantly enhance safety measures and operational efficiency in utility services.
Learn More About Hazardous Underground Trench System.