The Challenge: 
Protect maintenance personnel from the hazardous environment of the airplane fuel tank entry and improve turnaround time efficiency of the fleet. Existing ventilation products did not perform at levels to optimize turnaround schedules.
Background
A large percentage of the work involved in proper inspecting and maintaining aircraft fuel tanks and their associated systems must be done in the interior of the tanks. Performing the necessary tasks requires inspection and maintenance personnel to physically enter the tank, where many environmental hazards exist. These potential hazards include; fire and explosion, toxic and irritating chemicals, oxygen deficiency, and the confined nature of the fuel tank itself. In order to prevent related injuries, operator and repair station maintenance organizations must develop specific procedures for identifying controlling or eliminating the hazards associated with fuel tank entry.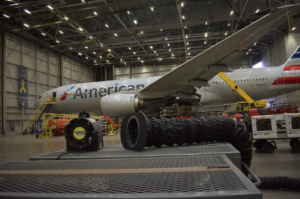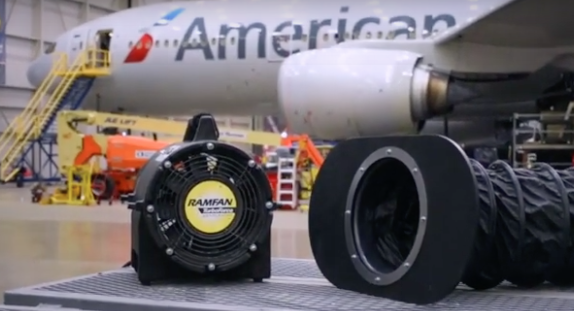 Preparation for Entry
Several steps must be completed before a maintenance technician enters an airplane fuel tank. These include electrically grounding and defueling the airplane according to standard procedures, making adequate fire protection equipment readily available, and deactivating associated airplane systems, which includes fueling/defueling and fuel transfer systems. Three final steps must be performed to ensure a safe atmosphere for maintenance personnel: 
Ensure adequate ventilation

 
Follow recommended ventilation techniques

 
Properly monitor air in fuel tanks
Ensure Adequate Ventilation
The single most important method of controlling the fire, explosion and toxic hazards associated with working in an open fuel tank, is ventilation. The more fresh air that is present in the fuel tank, the safer the environment will be for maintenance personnel. Continuously pushing fresh air into a fuel tank helps to prevent a fuel vapor concentration from reaching its lower flammability limit, thus preventing fires and explosions.  
Recommended Ventilation Techniques
The physical structure of airplane fuel tanks presents some unavoidable challenges in ensuring adequate ventilation. Some of the challenges include dead air space and small openings between tank sections that inhibit air flow, ventilation equipment that may not be selected or set up properly, or suspension of ventilation before the entry work is completed. Planning and execution are critical to providing adequate ventilation.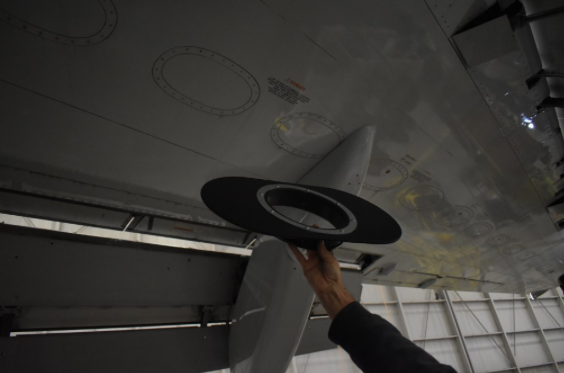 The recommended practice for conducting tank ventilation is the "push-pull" technique. First, an upstream "push" access hole should be opened. Next, a downstream "pull" hole should be opened. Finally, a blower should be located at the push hole, forcing fresh air into the tank. Exhaust equipment can be located at the pull hole to supplement the airflow through the tank. 
Electrically Powered Equipment
Maintenance technicians may need to use a variety of energized equipment, such as lighting, testing equipment, and powered tools. All electrically powered equipment must be intrinsically safe or rated for use in a potentially flammable atmosphere. Pneumatic tools should be powered only by compressed air, and not by nitrogen or other inert gas that could displace the oxygen inside the tank. 
 The Solution 
RAMFAN AIRCRAFT FUEL TANK VENTILATION KIT  
A complete, portable, explosion-proof ventilation kit designed specifically for fuel tank purging and exhausting fuel vapors completely away from the aircraft location to create a safer work environment. The explosion-proof UB20xx, AFi75xx or EFi75xx Explosion-Proof Ventilators System and fuel tank adapter utilize high-strength polymers with an anti-static housing that is designed to discharge static build-up safely.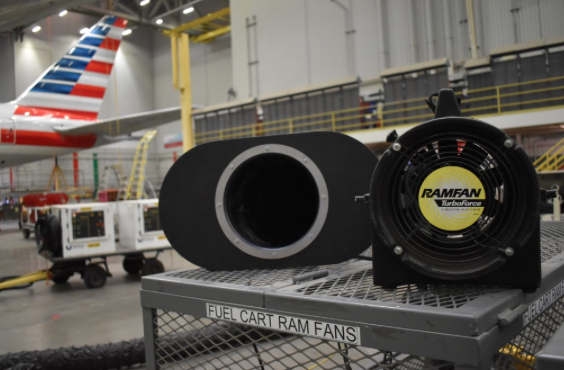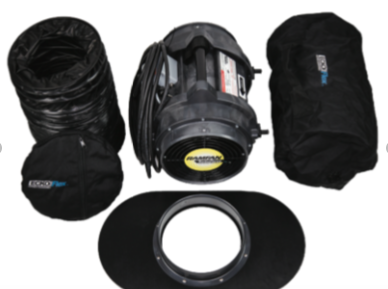 This kit allows American Airline maintenance personnel to utilize a system that is stored on a cart for easy deployment and provides the highest level of intrinsic safety and increased airflow performance to ensure safer and faster turnarounds.  
The maintenance team can now remove the required tank panels, and then install the ventilation system (suction or positive pressure as required) to ensure that no toxic or flammable vapors are can contaminate the hangar/ work area.
The ventilation system is installed as soon as the tank panels are removed. 
By Joel Rayden